Hi,
this thread is for questions regarding the Chip Tester of the 8bit-museum.de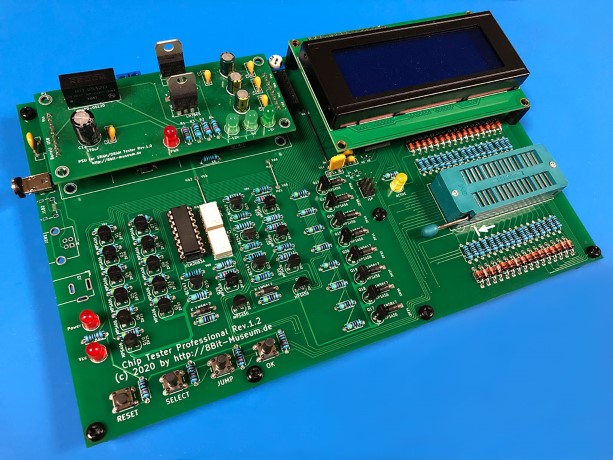 The current version can not only test lots of SRAMs and DRAMs, but also identify EPROMs (very useful if the label is no longer readable), it can identify (EP)ROM content (e.g. if you find an EPROM and do not know which software is on it), he can test several TTL/CMOS devices. It is also possible to save the content of (EP)ROMs on SD memory card, also possible with 2704/2708 EPROMs and with bipolar ROMs (though saving from bipolar ROMs is not tested yet since I do not have any).
During the development, I tried to choose a middle way between cheap but still useful and accurate. So I choose an ATmega2560 which is quite cheap but allows to perform digital testing and - if you like - you can still use the Arduino framework in order to write your own code for the board because of its past.
You will find some chip comparison lists and an English manual on this page:
https://8bit-museum.de/sonstiges/hardwa ... hiptester/
There is a switch on the right side to auto translate the page into several languages.
You can also see it on YouTube:
It is in German but you can switch on English subs with I have added.
You are welcome to write in Spanish and even when I do not understand Spanish, Google Translator does
The best way to contact me is using my contact form:
https://8bit-museum.de/kontakt/
Q: Do you have boards available?
A: Please contact me. I have never larger quantities in stock (I usually order only ten PCBs at once).
Q: Is it available as kit? Do I have to solder SMT?
A: No, it is not available as kit. Since I order the PCBs pre-soldered with the ATmega chip there is no need to do SMT soldering.
Q: How much is it?
A: Since I sell the boards at cost price the price varies a little bit. Please assume a price between 32-36 Euro for the two PCBs (the pre-soldered (ATmega2560) main board and the DC/DC board). You will find a BOM in the manual but you will also get a better list with the PCBs.
Q: Is it easy to build?
A: Depends. If you have some experience with soldering: yes, you should be able to build it in 4-6 hours. Some pads are quite small and require some careful work. But all components are THT.
Q: Is the Chip Tester error-free and perfect?
A: I would wish so but I don't think it is. When you find a bug let me know.
slabbi